Speech Topics
and Tips for a Perfect Presentation!
Being asked to speak publicly and choose great speech topics can feel like one of the most daunting tasks on earth! 
Not only do you need to pick an appropriate subject matter, you also need to present the speech in a way that will make it memorable for your listeners.
And, if public speaking is not yet your thing, you will need to learn to overcome your nerves; glossophobia.  
But never fear... I'm here to help!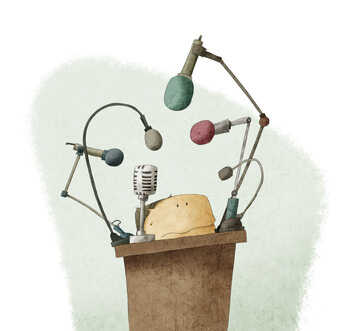 Select below for speech topics and free speech samples for all types of public speaking:
Best Speech Topics has Everything You Need

Spark your imagination, find the perfect topics, and give the exceptional speech, it's within you!

I am delighted to receive your feedback and and it warms my heart to know if I've helped you in some small way to feel more confident about speaking publicly.
Please keep the feedback coming. Send in your comments through the contact form.
Best Speech Topics

- "A go to resource for all information concerning public speaking."
I've designed this website to be your "go to" resource for every aspect of giving your speech, from its conception to its professional - and confident - delivery.
Discover HUNDREDS of speech topics and ideas that will inspire you.
Read tips for putting together a speech that sounds polished and professional.
Use any speech outline provided on this site as a framework to make it easy to create your OWN presentation.
Read complete sample speeches so you can see how a memorable speech is crafted, from beginning to end.
Learn about the different types of speeches needed for different situations, with ideas for everything from informative or demonstration speeches to persuasive or even funny presentations.
Have you been called upon to act as best man? Maid of honor? Speak on behalf of your office to a colleague who's retiring? Discover lots of tips and advice for speaking on special occasions.
Learn how to overcome your fear of public speaking with my tips and exercises designed to increase your confidence.
Trending content from Best Speech Topics:
Understand the basic building blocks of case theory and theme for mock trial. A case theory forms the foundation for everything in a trial.

The three keys to cross examination success. Explores building blocks for effective examination of adversarial witnesses at a trial.

Episode 1 of Mock Trial Flight School - Witness Preparation - Brian Bellamy discusses knowing, analyzing, practicing the witness role and teamwork