Free 40th Birthday Speech
A 40th birthday speech is one speech that you should feel honored to be asked to give! It means that the person turning 40 has a special place in their heart for you and having you speak at this special occasion means a great deal to them.
The speech below is an example of a birthday speech a parent might give for a child when she/he turns 40.
You can use this sample speech to create one of your own by amending it to include personal stories and writing from your heart. It could easily be turned into a speech given by a husband to a wife, a brother to a sister or a best friend to a best friend.
Beginning of 40th Birthday Speech
Robert Frost once said "A diplomat is a man who always remembers a woman's birthday but never remembers her age." Well I am no diplomat! Welcome all, to Samantha's 40th Birthday Party! Her mother and I are honored that you have come to share this day with us.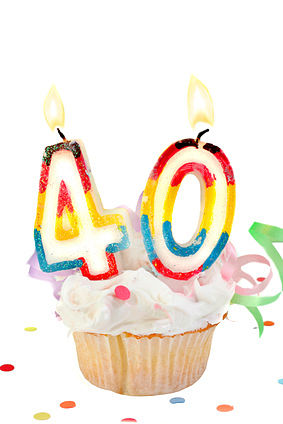 I remember the day Samantha was born - she was as bald as I am now! Really, she was the most beautiful baby I had ever seen. The moment I took her in my arms, she looked into my eyes and wrapped her tiny fingers around one of mine. That was the day I knew my life would never be the same.
Those baby and toddler years flew by. It was time for Samantha to start kindergarten before we knew it. She and I were driving home from her first day of school. We were talking about her likes and dislikes concerning her school, class, and teacher. She looked at me with those wide eyes and said "Dad, I like my teacher, but she is kind of old. She is like 40." Well sweetie, I guess you are officially an old lady now!
She did have some sweet moments though. We enjoyed watching movies on the couch every Sunday night. She had to have the popcorn in her lap. Wrapped around her finger, you bet! She could swing at the playground for hours saying "daddy higher."
Our favorite time was reading a story at night. I can still remember her asking to read Owl at Home over and over until the book cover was worn thin. She has always loved reading and learning.
Oh boy, then the teen years hit hard! Friends, the phone, and dating become way more important to her than this old man!
I'm sure her first boyfriend was surprised to meet with my interrogation that first day he walked through the door. I guess I've always been a little bit overprotective.
Seriously though, even when Samantha was a teenager she would make time for her family. Our trip to New York City for her 16th birthday will always be a good memory for me. She also made sure to always make school a priority.
At the beginning of each school year we took a picture of Samantha before she left for her first day. Seeing each picture lined up still amazes me as I see how much she has grown and matured throughout those years.
To see her today: a teacher, wife, and mother of two brings me the greatest joy! Happy Birthday Samantha, to me you will always be my baby!

End of 40th Birthday Speech
This example of a 40th birthday speech from a father to his daughter should make the birthday girl feel special and loved. The type of feeling you want to convey will obviously depend on the person you are giving the speech for.
If you're writing a speech for your oldest and dearest friend, your presentation might contain more colorful and risque stories.
If you're giving a 40th birthday speech for your boss, the tone of the speech will be completely different. Use your best judgement on whether the speech should be touching, funny or reverent!
Tips for Writing a Birthday Speech

Sample 50th Birthday Speech

Sample General Birthday Speech

More Special Occasion Speech Topics

Home Page