Importance of Sportmanship to be in School
by Macky Kambonde
(Oshana ,Oshakati, Namibia)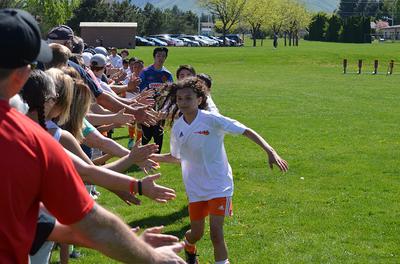 Thank you for all of the teachers present here, but first of all, I give thanks to the almighty for allowing us to be present here today, alive and well. My name is Jany Johnson, the sport. Today we are simply going to talk about why it is important for sportsmanship to be taught in schools.

Myriad of learners in school find it difficult following rules, which sometimes leads to bad behaviors and attitudes towards their fellow learner. Which is why teaching sportsmanship will help the students join sports, and through sports, the learners will learn to follow different kinds of rules. Sometimes learners may not understand these rules, so with sportsmanship being taught at schools, it could help these learners.

Students learn how to deal with frustrations and when failure crosses their path and consequences for their actions during sports or activities. Students who practice a team on different sports also benefit from learning how to take and accept responsibilities and also learning how to encourage others to do their best which can lead to good behaviors of students towards their fellow learners.

Sportsmanship brings victorious joy to students and encourages keeping good behavior. Thank you all for listening. I hope you will consider the decision of sportsmanship to be taught at schools.

Education
by Llano
(Balagtas, Bulacan)
If a child doesn't go to school, what do you think will happen to him?

If the nation does not provide education, what do you think will happen to us?

If anyone doesn't even mind the education, do you think his life will be at ease?

No wonders! Education is quite essential for the well-being of a person. Education is not only all about providing knowledge to the people, but it could also help them to grow professionally and personally as the old philosopher said, "Education breeds confidence. Confidence breeds hope. Hope breeds peace." I mean to say; education helps one's self to find out his right horizon. It helps one to be globally competitive, and yet, be able to cope up with the shifting dynamics of this society.

Camaraderie and tolerance.

So, when the men learn to embrace the worth of education, the nation would be at peace. Harmony would become stronger. Everyone will grow professionally. Everyone will no longer suffer illiteracy, and everyone will learn to stand up and start a new way for a BREAKTHROUGH.