My Rap Speech Sample Experience in the Classroom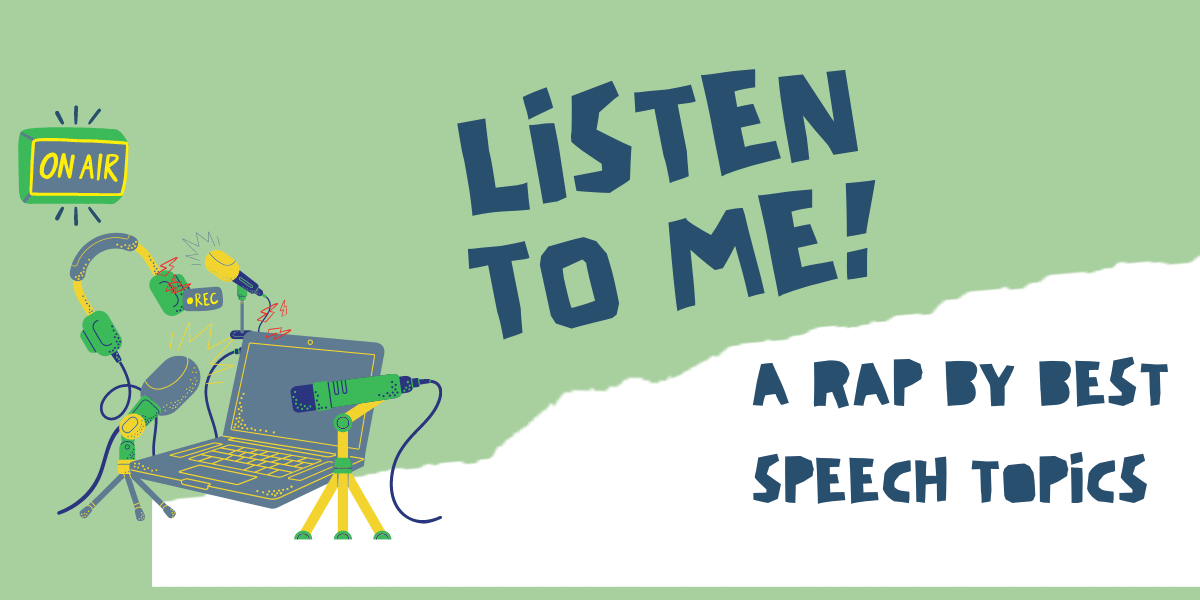 A Rap Speech About Artificial Intelligence
Recently, I created a rap speech sample with the help of ChatGPT. The goal was to help students prepare a speech that appealed to their creative or preferred communication style. Eventually, the students warmed up to the idea, and several students overcame anxiety and rapped speeches in front of the classroom audience. In addition, using rap music enticed students to speak up with poise and have an engaging presence.

What's the Difference Between Rap and Speech?
Distinguishing music from speech can sometimes pose a challenge. Consider rap. Is rap music or speech? Vocal styles like calling, emoting, speaking, and singing often overlap, challenging categorization.
Wikipedia describes rap as a musical form of vocal delivery that incorporates rhyme, rhythmic speech, and street vernacular. Titze, I. (2021). Is Rap Music or Speech? Journal of Singing, 77(4), 519. https://vocology.utah.edu/_resources/documents/is_rap_music_or_speech_titze.pdf. The definition highlights that rap occupies a gray area between speech, prose, poetry, and singing.
Some contrasts between speaking and singing at an acoustic level, include differences in word intelligibility, pitch, intensity, accents, and use of vital lung capacity.
Speaking shares similarities with singing in terms of word intelligibility but maintains continuity through voiced consonants that can degrade intelligibility. The use of accents in rap is more for rhythmic clarity than semantic clarity, further bridging the gap with music. However, when considering fundamental frequency and the limited notation and prescription, rap falls more into the category of speech than music.
Rap can be considered a hybrid between music and speech, residing somewhere in the middle of these two categories.

Rap Speech Sample
Here are the lyrics to a rap speech sample that discusses what artificial intelligence is, how engineers use artificial intelligence, how standards for AI will impact the world, and how the United States should defer to the UN in developing global standards.
(Verse 1) Listen up y'all, let me break it down   About something that's been going around   It's called AI, that's artificial intelligence
Machines that can think, and make sense   Engineers use it to solve problems fast   Analyzing data from the past It's used in medicine, finance and more   Making predictions like never before
But AI ain't perfect, it can make mistakes   If it's not programmed right, it can be a headache   That's why we need some standards in place   To ensure AI's used in a safe way
(Hook) AI standards, we need 'em now To make sure it's safe and sound So let's work together, 'cause it's our fate To regulate AI before it's too late
(Verse 2) If we don't act now, it could be bad news AI could be used in ways that we'll lose Privacy, security, and even jobs That's why we need to be smart, not just mobs
The UN's got a role to play In developing standards without delay   We need global rules that make sense   So we can use AI with confidence
The US should defer to the UN In creating standards that work for everyone   It's time for us to join the global crew   And work together to see this through
(Hook) AI standards, we need 'em now To make sure it's safe and sound So let's work together, 'cause it's our fate To regulate AI before it's too late
(Outro) So that's it y'all, I hope you see That AI is more than just a technology It's something that we all need to care And work together to make it fair.
BST Pro Brian B. with a Generative Pre-trained Transformer Assistant
---
Have you thought about rapping your speech or using rap in the classroom? Using rap music or lyrics in the classroom can be an effective and engaging way to teach public speaking. Here are three ways a teacher can incorporate rap music or lyrics to teach public speaking:
Amplifying Public Speaking Skills through Rap: Five Engaging Strategies for the Classroom
Rhyme and Rhythm: Rap music is known for its intricate rhyme schemes and rhythmic patterns. Teachers can use rap lyrics to highlight the importance of rhythm, cadence, and flow in public speaking. Students can analyze rap verses, identify the rhymes, and practice delivering their speeches or presentations with a similar rhythmic style. This exercise helps students develop a sense of timing and delivery, making their speeches more engaging and memorable.
Wordplay and Figurative Language: Rap music often employs wordplay, metaphors, similes, and other figurative language techniques. Teachers can use rap lyrics to introduce and explore these literary devices. Students can analyze rap verses, identify examples of wordplay or figurative language, and discuss how they enhance the overall message and impact of the lyrics. Encouraging students to incorporate these techniques into their speeches can make their presentations more creative and captivating.
Freestyle and Improvisation: Freestyle rap involves improvising lyrics on the spot, often based on a given topic or theme. Teachers can use freestyle rap exercises to help students develop impromptu speaking skills. Students can take turns freestyling on various topics, challenging themselves to think on their feet, and delivering coherent speeches in real-time. This activity enhances their ability to organize their thoughts quickly, improve their confidence, and effectively communicate their ideas spontaneously.
Lyric Analysis and Interpretation: Rap lyrics often contain rich themes, social commentary, and storytelling elements. Teachers can select rap songs that have meaningful and thought-provoking lyrics. Students can analyze the lyrics, discuss the messages conveyed, and interpret the underlying themes. This activity helps students develop critical thinking skills, articulate interpretations, and construct persuasive arguments. It also encourages them to explore different perspectives and engage in meaningful discussions.
Collaborative Songwriting: Engage students in collaborative songwriting activities where they write their rap verses as a group or in pairs. Assign a specific topic or theme relevant to the subject being taught, such as historical events, scientific concepts, or literary analysis. Students can brainstorm ideas, research information, and craft their lyrics. This exercise promotes teamwork, creativity, and effective communication. It allows students to express their understanding of a topic uniquely while practicing their public speaking skills during performances or presentations.
By incorporating rap music and techniques into public speaking lessons, teachers can create an interactive and dynamic learning environment that captivates students' interests and helps them develop essential speaking skills.
In Conclusion, could you give me a beat? Here's a Rap Speech Sample That's a Speaking feat!
(Verse 1) As we reach the end, it's time to comprehend   The power of rap in helping us transcend   We explored using rap as a sample speech   To learn and improve, unlocking skills within our reach   
Rap lyrics, a platform for eloquence and flair   Practicing public speaking, we're aware   Through rhythm and rhyme, we captivate the crowd   Delivering speeches with confidence, we're proud
(Hook) From rap sample speeches to mastering the flow   Developing public speaking, let it show   With every word we spit, every line we write   Rap lyrics are the catalyst igniting our light
(Verse 2) We analyze rap verses, dissecting the art   Learning from the masters, playing our part   Freestyle exercises, we think on our feet   Building impromptu skills, a challenge we meet
Collaborative songwriting, a creative endeavor   Expressing ideas, showcasing our endeavor   With rap as our guide, we find our own voice   Conquering the stage, making the audience rejoice
(Bridge) So let's celebrate the fusion of rap and speech   Using rap lyrics, our goals we will reach   From sample speeches to mastering the craft   Rap empowers us to speak and hold our own in any draft
(Verse 3) In conclusion, rap and speech intertwine   Both shaping our skills, intertwining the line   With rap as our muse, we sharpen our voice   Empowering our public speaking, making the choice
So keep on rapping, let your voice resound   Mastering public speaking, making us renowned   With rap lyrics as our guide, we conquer the stage   Unleashing our potential, stepping into our own age
(Outro) As we wrap up this journey, let's embrace the blend   Rap, speech, and development, a cycle that transcends   So let your words flow, let your voice ring true   With rap and public speaking, there's nothing you can't do
BST Pro Brian B. with a Generative Pre-trained Transformer Assistant
Free email delivery

MASTER INFORMATIVE SPEAKING WITH OUR FREE CHECKLIST!
We are offering you a FREE SpeakFlight Informative Speaking Preparation Checklist. This valuable resource is packed with step-by-step guidance to help you create compelling, memorable, and effective informative speeches.