Farewell Speech
This free farewell speech is meant for the person doing the leaving! At one time or another, most of us get to a point where we need to bid others goodbye... but it's not always easy to come up with the right words.
It's especially important to have something meaningful to say if a special event has been arranged to mark your departure, such as a farewell party thrown by co-workers, or even friends and family if you're moving away from home.
Whatever the circumstances are for your leave-taking, this sample farewell speech can serve as a guide! Customize it to make it a personal, heartfelt speech of your own.
Beginning of Farewell Speech
I am leaving here today with a wealth of knowledge I will always treasure. Working here has been a fantastic learning experience and I am thankful for the skills I've acquired. I feel as if being here with you all each day has made me a more complete and well-rounded person.
I've learned how to take direction, criticism, and compliments. These are three things I wasn't so great at taking before, and now I feel as though I can apply that in many different situations.
I've also learned to be open-minded, to value other people's opinions and to consider other ideas along with mine, to end up with a great final result.
Being part of a team has taught me skills that I can use in more than just the professional area of my life. My relationships on a personal level are in a better place than they were, thanks to some of the things I've learned from many of you.
I've come to realize that being a part of a team is a lot more than just sharing credit. A team effort takes compromise. When you are on a team you have to at times lead, follow, and more often than not, meet in the middle.
Realizing that my marriage is also a team effort is what is prompting this bittersweet change for me.
When my spouse was offered the opportunity to relocate, it was up to me to compromise and agree to move our family across the country in order for her to fulfill her dreams. If I could stay here forever I would, but this is an opportunity for her that can't be passed up. As her partner and teammate, it would be selfish of me to ask her to turn it down.
My wish for everyone here is that you all continue to experience success, to feel fulfilled in all you do, and to have nothing but pleasant results with each completed project! While that may be an overly optimistic wish, it is sincere.
It's been a pleasure working here and I will truly miss it. I take with me fond memories, valuable skills, and I hope to one day leave an impression on others similar to the one you have left on me.
Thank you for this farewell party and I look forward to hearing of your future successes.

End of Farewell Speech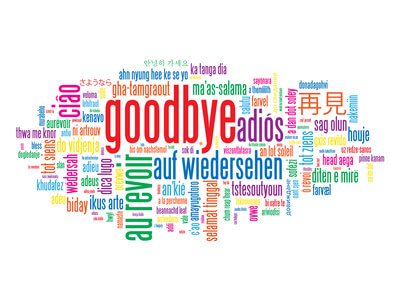 When giving a farewell speech try to keep the tone of it positive and sincere. It may be a little difficult to do if you didn't enjoy your job quite as much as you'd have everyone believe, but do your best to find as many positive thing points as you can and leave everyone with fond memories of you!
Saying goodbye is never easy but with a little planning and practice you can bid everyone a fond adieu with style.
Special Occasion Speech Topics

After Dinner Speech Topics

Sample Welcome Speech (plus tips)

Another Example of a Welcome Speech

Home Page