Looking For Great Topics For Your Next Speech?
Lists of speech topics are great but without some structure to follow for writing a proper speech they won't get you very far.
It would be easy for me to just write down thousands of subjects for you to choose from, but that wouldn't do you much good if you don't have a grasp of the different types of rules for writing different types of speeches!
Don't get me wrong! There are hundreds of speech topics and ideas for you to pick from on this site but you'll also get tips and outlines and actual speeches to help you get your head around how to write a speech and how to deliver one too!
Being in elementary school, high school or college gives you lots of opportunities to brush up on your speech writing skills and public speaking skills!
Take advantage of that because when you're out in the real world, these skills will serve you well!
Finding the best speech topics for your presentation can be frustrating at times but you can't go wrong if you choose a topic on something you have an authentic passion for.
When you speak on something that you are enthusiastic about, there's a certain zest in your presentation that captures an audience.
At best-speech-topics.com you'll find ideas for three of the most popular types of speech topics: demonstration speeches which teach your audience how to do something, informative speeches which convey information on your chosen topic and persuasive speeches which encourage your audience to come over to your way of thinking or to take action.
Some of the hardest speeches to write are special occasion speeches. This is because we don't have to give this type of speech very often and they are not as structured as the other speeches so the rules are a little looser.
More than likely though we'll have to do a few of these during our lifetime either for someone's birthday, as a valedictorian, part of a wedding party or funeral, after a dinner honoring someone, introducing ourselves at a new job, etc.
Once you get the hang of writing a speech for a special occasion, I know you will enjoy it! These kinds of speech topics allow you to add in your life experiences, personal stories and jokes to a different degree than is allowed in other types of speeches.
Speeches for special occasions are not as formal as other types of speech topics so they are more fun to write, in my opinion anyway ;o)
When you have to write about the different types of speech topics in the table below then you'll need to structure your speeches a little more formally.
It's not as hard as it may seem especially if you go through the articles on this site to inform yourself about the ins and outs of your particular type of speech topic and how to write about it.
Once you have the information you need in order to write your speech then all it takes is preparation and practice to deliver an exceptional presentation.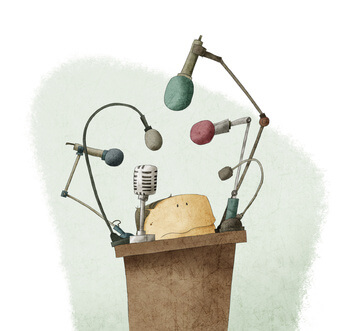 Now, lots of folks are known to be more afraid of speaking in front of people than of dying! Crazy, huh. I think they might change their minds about that if someone were to hold a gun to their head and say, "Choose! Speak or die!" I'm fairly sure that most of us would choose to deliver a speech rather than die. Or maybe that's just me?!?
Each time you write on a speech topic or present a speech in front of an audience, it becomes easier and more comfortable to get over your public speaking anxiety.
It's okay to be a bit nervous before speaking in public, but if it paralyzses you then you definitely need to work on becoming more confident!
I'm hoping that best-speech-topics.com will spark your imagination and help you to find perfect speech topics for all your public speaking engagements or classroom assignments.
Think about what you enjoy doing, reading, talking about, and check out the blog to find the latest and greatest speech topics lists, ideas and speeches.
Settle in and click around at your leisure...hopefully this site will get your creative juices flowing and help you to write the exceptional speech I know is inside you!
If you are having trouble finding anything just check out the sitemap for best-speech-topics.com. It's got everything laid out in an easy to follow style or use the search box below to find what you need.
This site has been growing for over 5 years now and I am delighted by the feedback and inspiration all you guys send in!
It warms my heart to know that I've helped you in some small way to feel more confident about speaking publicly and I love hearing how well you've done in your speaking assignments!
Keep the feedback coming...send in your comments through the contact form.
It's great to hear how so many of you have overcome your fear of public speaking to become better and better presenters!
You guys are awesome!
Click here to read more about why I started Best Speech Topics.