The Funny Wedding Speech
Are you afraid your plans for a funny wedding speech may fall flat? The following advice will ensure you will have everyone laughing and engaged in your toast to the bride and groom or a heartfelt message to the significant other.
Suggestions for writing a funny wedding speech: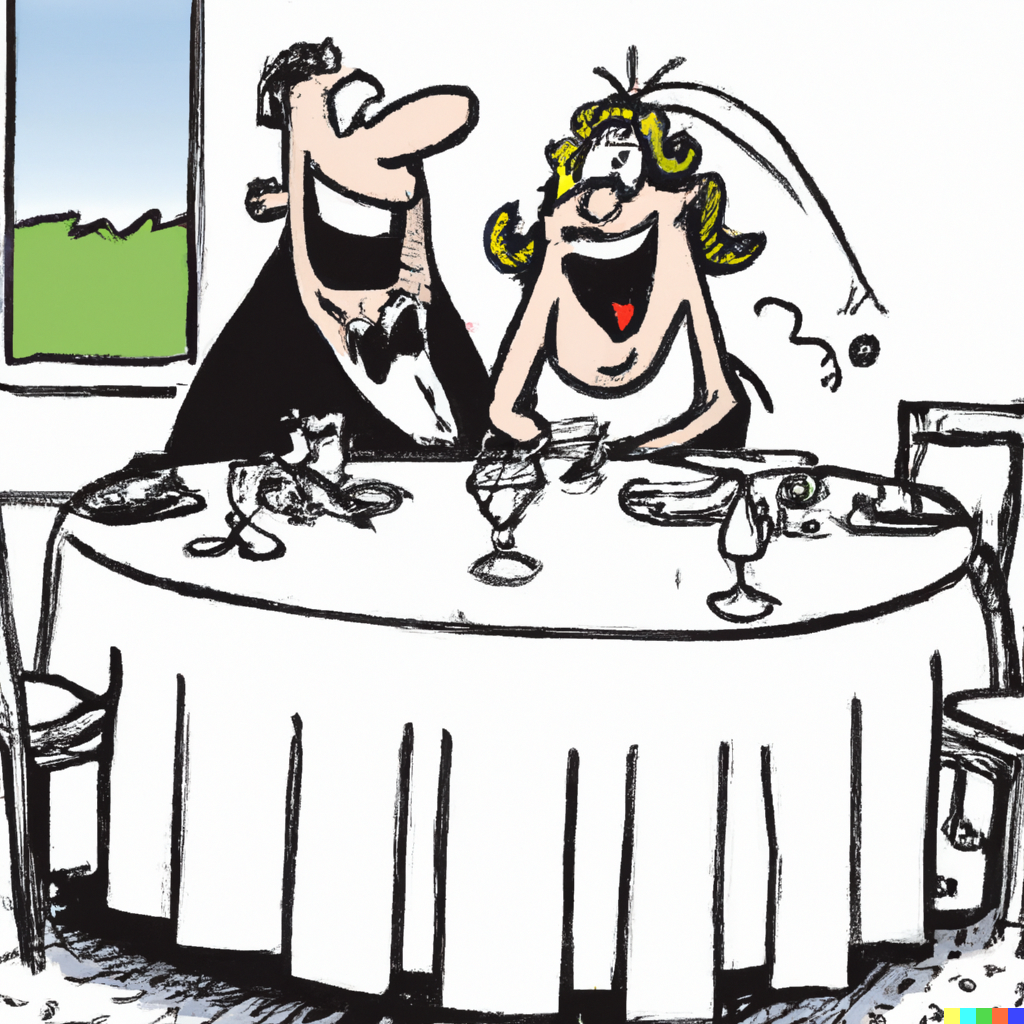 Start with a joke or humorous anecdote: A funny wedding speech often starts with a laughter. A joke can be a great way to grab the audience's attention and set the tone for your speech. Just be sure to keep it appropriate and respectful.
Use self-deprecating humor: You can inject humor into your speech by poking fun at yourself or your shortcomings. This can be an excellent way to break the ice and put everyone at ease.
Share funny stories or moments: Think about fun times from the past that you've shared with the bride or groom. Shared history can provide excellent material for your speech.
Share a historical moment: How about sharing a hobby or interest that you remember as a memorable time?
Use wordplay or puns: Puns or clever wordplay can be a great source of humor, as long as they're not too corny or forced.
Keep it light: Remember that this is a wedding, not a comedy club. Keep your humor light, and avoid making jokes that could be offensive or hurtful.
By following these tips, you can craft a funny wedding speech that will entertain and delight the audience while showing your love and appreciation for the happy couple.
Tip #5 above suggests using clever wordplay or puns. Keep in mind that puns can be hit or miss, and it's important to use them sparingly and in good taste. It's also a good idea to make sure that your puns are appropriate for the occasion and the audience.
Here are a few "punny" ideas:

"I'm so happy for these two lovebirds - they're finally flying the coop!"
"I'm glad these two have finally tied the knot - they've been knotty for long enough!"
"I'm so glad to see [bride] and [groom] taking the next step in their relationship. It's a big step, but they're ready to walk down the aisle together."
Use the "skeleton" below to plan your speech. How? Use the skeleton like an outline. Insert your own words in the brackets and change the stories to your own. Elaborate on the sketch to inject your personality.
Skeleton of a funny wedding speech using the tips above:

"Hello everyone, my name is [Name] and I'm honored to be standing here today as [bride/groom]'s [relationship]!
"I can't believe [bride] and [groom] are finally getting married. It feels like just yesterday they were swiping right on each other's profiles."
I have to admit, when [bride/groom] first told me they were getting married, I was a little skeptical. I mean, [bride/groom] has always been a bit of a wild card. Remember that time we went on that road trip and [bride/groom] convinced us to jump off that cliff into the river? Yeah, that's the kind of stuff [bride/groom] is capable of.
But then I met [partner], and I knew right away that they were the perfect match for [bride/groom]. They're level-headed, organized, and they always know how to talk [bride/groom] down from their crazy ideas.
So, to [bride/groom] and [partner], I want to say congratulations! I'm so happy for both of you and I can't wait to see all the amazing things you'll accomplish together. Just try not to get married on a cliff next time, okay?
And to all the guests here today, I have a special request. If you see [bride/groom] getting a little too wild or crazy, just remind them of their commitment to [partner]. Trust me, it'll be worth it.
Cheers to the happy couple!"

Funny Wedding Speech Given by the Best Man
The funny wedding speech below was sent in by Ron, the best man at Tom and Kim's wedding. Take this speech and adapt it to your needs, or use it for inspiration.
Although this is an example of the best man delivering the speech, it could easily be given by the maid of honor or any of the wedding party by changing the stories and introduction.
The best man in this speech creates a cheerful tone immediately by humorously referring to himself as the "best" man.
Use the example to sketch and outline your own funny wedding speech by playing with the words and ideas expressed.
Beginning of Funny Wedding Speech
It is time to listen to the best man! Yes, that's me!
As the best man, I was asked to give a speech. However, I am a little confused as to why Kim is marrying Tom if I am the best man. On a serious note, I am honored to be Tom's best man.
Tom and Kim are about to embark on the journey of a lifetime. I want to thank all of you for joining them today at the start of their beautiful life together.
I have known Tom since the fourth grade! We have gotten into a lot of exciting trouble together. Quick! Someone cover Ms. Smith's ears! Our first adventure together was spitballs at our teacher. Oh yea, we were sneaky and would have gotten away with it had it not been for Sarah, the tattletale! Tom, remember that one Halloween, you know the one with the silly string?
Now I have a secret about Tom! Kim, remember this when you need a good laugh. He sleeps like a rock! We would do the funniest things to Tom while he was asleep. Let's see, which one was the most hilarious? Was it when we put shaving cream all over his face? No! Oh, it has to be when we were in college and plastic-wrapped him to a chair he fell asleep! You should have seen his face!
I am sure there is a whole support group of men crying over the loss of another beautiful woman being taken off the market! Hmmm, wonder how many women are crying over Tom tying the knot?
Kim, really, you are a very fortunate woman. You and Tom will have an amazing life together as you both complement each other in every way possible.
Tom and Kim began their journey to this day four years ago. This journey has been full of positive and negative times. Luckily, they have mostly been positive!
They have taught this old bachelor what love and understanding between life partners are all about. I am sincerely thankful to have watched Tom and Kim's relationship culminate in this beautiful wedding.
Again, I thank all of you for being here today to celebrate their special day. Tom and Kim, I wish you the best, and I cannot wait to see how much more your love can grow!

End of Funny Wedding Speech

---
Thank you, Ron, for sending in your funny wedding speech and helping out Best Speech Topics visitors. If YOU have an address you'd like to share, please send it in, and I'll publish on this website to inspire others!
That little something 'extra'...
The video below is an excellent example of a unique wedding speech given by the maid of honor. This funny wedding speech includes something special and memorable! Get creative and have some fun!
Maid of Honor Wedding Speech - Funny!!!

Free email delivery

MASTER INFORMATIVE SPEAKING WITH OUR FREE CHECKLIST!
We are offering you a FREE SpeakFlight Informative Speaking Preparation Checklist. This valuable resource is packed with step-by-step guidance to help you create compelling, memorable, and effective informative speeches.