50th Birthday Speech
A good 50th birthday speech should be
well prepared
personal
humorous and/or moving
truly focused on the honoree
Remember, it's okay to add a little humor but make sure you won't be embarrassing your friend or family member. Although that would make for a memorable speech, it wouldn't be the best kind of memory for the honoree!
Below is an example of a speech to be given at a woman's 50th birthday party by a close friend. Use it as a guide and personalize it to make it apply specifically to YOUR friend.
Beginning of 50th Birthday Speech
Welcome friends, to Elizabeth's semi-centennial party! As you know, Elizabeth likes to celebrate everything so today we're just a little more dressed up than usual.
As you can see here, in 50 years Elizabeth has made a lot of friends. I suspect that - like me - she befriended most of you by offering to help you in some way.
In my case, Elizabeth helped me tie my shoe on the first day of school back in kindergarten. I hadn't quite mastered that skill yet, but Elizabeth was way ahead of me. I guess I've felt that way ever since then, but not in a bad way... in an inspiring way!
I love that my dear friend always challenges me to move forward and achieve more and to always be true to myself.
I'd like to talk a little about Elizabeth's passion. I'm sure that all of you know of her involvement in the Leukemia/Lymphoma Society since the loss of her sister Ali to lymphoma 10 years ago.
Maybe that is not the most uplifting thing to mention at a 50th birthday party but it is an integral element of Elizabeth's life. I bring it up to remind us all to remember Ali today, and I am sure she is here in spirit, and also to remind all of you that in lieu of gifts, Elizabeth has asked us to contribute to the Leukemia/Lymphoma Society. Please contribute generously.
Elizabeth, 50 years is a good long time to live - I should know! And it is truly something to celebrate.
In the presence of your family here, your husband Rick, your daughters, Alice and Susan and your parents, Joan and Bob I'd like to say that we here appreciate you and all you have done for so many of us. We celebrate the 50 years you have lived and we wish you many more.
I, for one, am looking forward to speaking again at your centennial party! To Elizabeth, congratulations and many more!

End of 50th Birthday Speech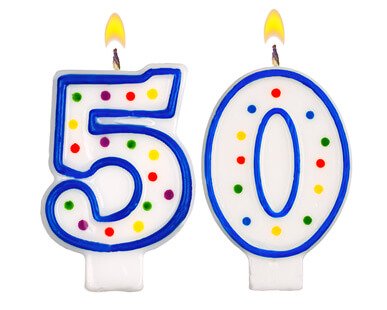 This short example of a birthday speech for someone's 50th is quite serious in nature and touching. You may want to write a more upbeat or funny kind of speech depending on the person you are talking about.
Writing a 50th birthday speech for your best friend of 35 years will contain different stories (probably a lot of funny ones) than one you may have to write for say, your wife/husband, mom or your boss!
Mentioning the how much the birthday girl or boy means to you and others is always a great idea, no matter whether the speech is for your mother, your husband, a friend, etc. Whilst it's a good idea to include jokes and funny stories in your 50th birthday speech, it's also important to talk about the person's contributions to your life as well as the lives of others.
Remember, too, to mention everything this person has achieved in their lifetime, seeking input from friends and family members who may have some information and stories that you weren't aware of.
Above all, ensure your honoree feels loved, appreciated... and both upbeat and positive about the future.
I hope this 50th birthday speech has given you some ideas on writing your own special occasion speech. Check on back or 'like' my Facebook page to keep up-to-date with all the new offerings at best-speech-topics.com.
Tips for Writing a Birthday Speech

Sample 40th Birthday Speech

Sample General Birthday Speech

More Special Occasion Speech Topics

Home Page